PAYERNE, Switzerland, July 8 (Xinhua) -- A Swiss solar-powered plane has made aviation history by flying non-stop solely on solar energy for more than 26 hours, including through the night.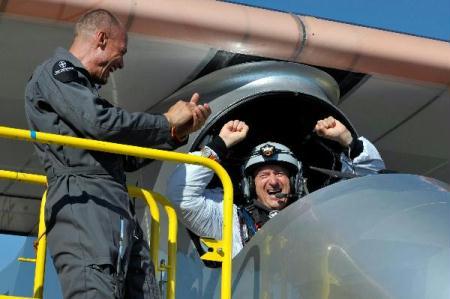 Solar Impulse's team chief Bertrand Piccard, left and Solar Impulse's Chief
Executive Officer and pilot Andre Borschberg celebrate after successfully
landing the solar-powered HB-SIA prototype airplane after its first
successful night flight attempt at Payerne airport on Thursday, July 8,
2010.(Xinhua/Reuters Photo)
The Solar Impulse HB-SIA, which took off at dawn Wednesday, successfully landed at 9 am (0700 GMT) on Thursday to the cheers of a crowd of supporters who came to the Payerne airfield in western Switzerland to celebrate this great milestone, the Solar Impulse project team said in a statement.
This is the first ever manned solar-powered aircraft in aviation history to fly through the night with no fuel.
"I've been a pilot for 40 years now, but this flight has been the most incredible one of my flying career," said Andre Borschberg, a former jet fighter pilot and CEO of the Solar Impulse project.
"I have just flown more than 26 hours without using a drop of fuel and without causing any pollution," Borschberg said after the plane touched down.
This flight is not only the longest, but also the highest in the history of solar aviation, as it reached a record alltitude of 8,500 meters.
A 70-strong team, together with 80 partners, took seven years of hard work, calculations, simulations and tests to build this completely new carbon fiber prototype, with its wingspan equivalent to that of an Airbus A340 (63.4 meters) and weighing about the same as a middle-sized car (1600 kg).
Related stories