BEIJING, July 8 (Xinhaunet) -- My first impression of Seattle came from Tom Hanks' 1993 movie Sleepless in Seattle. This is a city of romance and a city of rain, I thought. My recent trip provided a glimpse into the city I had longed to see.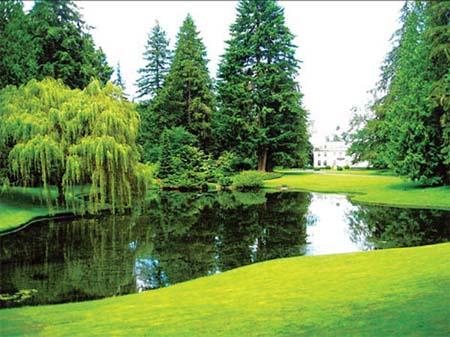 The Bloedel Reserve features natural woodlands and beautifully landscaped
gardens and is popular with tourists and locals alike. (Source: China Daily)
Though playing host to a spate of world-class corporations like Starbucks, Microsoft and Boeing, Seattle is a rather cozy place to stay, compared to other cities on the west coast of the United States, like Los Angeles and San Francisco.
People here start their day in a relaxed way: walking dogs or jogging in parks, then sip a cup of coffee before heading to work. Office hours usually end between 3 pm to 6 pm, much earlier than most big cities.
Seattle's slow pace of life is similar to that of Chongqing, its Chinese "sister city", with which it established ties in 1983.
For most travelers, the century-old Pike Place Market is a must-see. The cheerful fishmongers yell to each other all the time while picking the fish and wrapping it up for customers. They also throw the fish through the air to one another, staging an interesting "flying fish" show.
The first Starbucks store, established in 1971, is also in the market. But to my surprise, it looks much smaller and shabbier than most of its outlets in Beijing.