BEIJING, July 8 (Xinhua) -- Chinese Premier Wen Jiabao and top political advisor Jia Qinglin met with Pakistani President Asif Ali Zardari respectively here on Thursday, and both sides agreed to further step up the bilateral strategic cooperative partnership.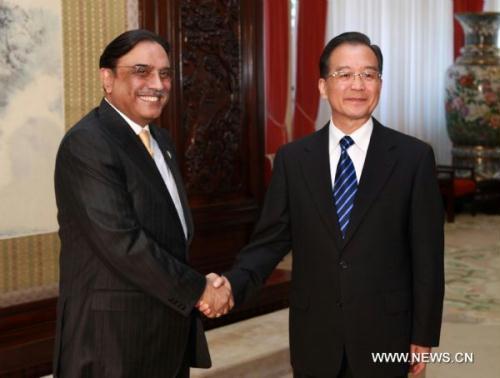 Chinese Premier Wen Jiabao (R) meets with visiting Pakistani President Asif Ali
Zardari in Beijing July 8, 2010.(Xinhua/Pang Xinglei)
With regard to trade cooperation, Wen told Zardari that the Chinese government attaches great importance to its trade ties with Pakistan which not only benefit the two peoples but also have strategic significance to the long-term development of the two economies.
He suggested both sides draw up a plan for trade cooperation, and take effective measures to offer reliable policy, financial and security guarantees to major bilateral infrastructure projects.
Wen also encouraged both countries to enhance personnel, information and technology exchanges among enterprises, and make full play of the China-Pakistan free trade area to boost trade cooperation.
Next year will mark the 60th anniversary of China-Pakistan diplomatic relations. Wen said China is willing to take the opportunity of the 60th anniversary to propel bilateral relations to a new stage.
Zardari, who is on his fifth China tour since taking office in September of 2008, said his frequent visits to China revealed the importance his government attached to developing relations with China and his affection of the Chinese people.
He extended gratitude to China's support and help to his country over the years, adding Pakistan would like to further strengthen bilateral cooperation in the areas of trade, infrastructure construction and culture, and join hands to fight terrorism.
Related stories