GUANGZHOU, July 9 (Xinhua) -- A delegation of the Kuomintang (KMT) Party, led by honorary chairman Wu Po-hsiung, arrived in Guangzhou, south China, Friday to attend a cross-Strait economic and cultural forum.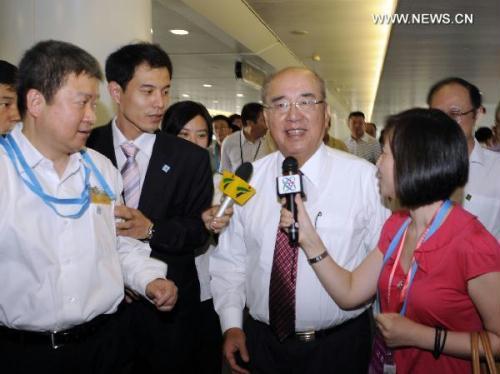 Kuomintang(KMT) Honorary Chairman Wu Poh-hsiung (C) arrives for the sixth Cross-Strait
Economic, Trade and Culture Forum, in Guagnzhou, south China's Guangdong Province,
July 9, 2010.(Xinhua/Guo Lei)
The Cross-Strait Economic, Trade and Culture Forum, a regular forum of the KMT and the Communist Party of China (CPC), will concentrate on cross-Strait cooperation in green energy, energy conservation and environment protection.
The plenary meeting of the forum, first held in 2006, will be held Saturday and Sunday in Guangzhou, capital of Guangdong Province.
A cultural and educational symposium will be held at the weekend to review the implementation of joint proposals put forward by delegations from the Chinese mainland and Taiwan during the previous forum.
At the fifth forum, at central China's Changsha City in July last year, both sides proposed to deepen information exchanges, acknowledge the commonality of their language, enhance conservation of cultural relics,support intercollegiate communications and facilitate Taiwan companies in exploring the mainland market.
More than 400 people from Taiwan and the mainland will attend the forum this year.