Flags prematurely declaring Holland the 2010 World Cup champions are flying off the shelves with other orange paraphernalia as the Dutch kit themselves out for Sunday's final against Spain.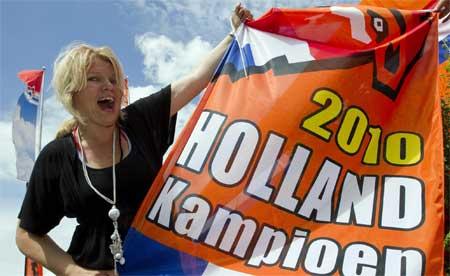 An employee of Dutch flag producer Dokkumer Vlaggencentrale shows the flag at
Dokkum in Friesland, northern Netherlands on Monday.Photo: AFP
"The wish is father to the thought," general manager Paul de Jager of Shipmate flags said Thursday of the company's plans to produce 2010 special edition flags with the words: "Holland Wereldkampioen 2010" (Holland World Champion 2010).
Nearly 1,000 flags of 1 meter (3.28 feet) by 1.5 meters have been sold since marketing started on Wednesday, the day after the Netherlands beat Uruguay 3-2 to reach a World Cup final for the third time in history - its first in 32 years.
"Yes, we took a bit of a risk, but our trust (in the team) is big," said De Jager, whose company is based near the western port city of Rotterdam.
Next to the wording, on an orange background, the flag is adorned with a lion composed of the names of the players of the Oranje Elftal (Orange Eleven) as the team is nicknamed, the coaches and the stadiums where they played.
It costs 18.50 euros ($23.40), and a second edition may be issued depending on demand, said De Jager.
Another company, in the north of the country, has produced 12,000 of its own champion's flag since Monday, and has sold 9,000 to date.
"Everyone is optimistic, everyone believes (in victory). The team is good, the spirit is good ... that is why we believe," Elizabeth Visser, a spokeswoman for flag producer Dokkumer Vlaggen Centrale said.
Dokkumer started production of the flag on Monday, following the Netherlands' quarterfinal victory.
Related stories