Paul the "psychic" octopus, who has become a global star after correctly forecasting all six of Germany's World Cup games, will predict the final, but only if his hefty workload has not exhausted him.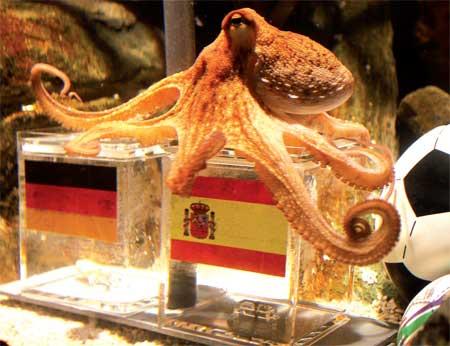 Paul the octopus sits on a box decorated with a Spanish flag and a shell inside it
on Tuesday at the Sea Life aquarium in Oberhausen, Germany. Photo: AFP
The mollusc medium, who stunned Germany by tipping Spain in the semifinal - spot on as it turned out, today will make his prediction for the third-place Germany match with Uruguay, a spokesman for his aquarium told the media.
Paul's handlers will follow the now familiar routine. Two boxes will be lowered into his tank, each containing a tasty morsel of food and the flags of the two opposing teams.
Whichever box Paul wrenches open is adjudged to be the winner.
Afterward, Paul will be offered boxes with Spanish and Dutch flags, the two teams in Sunday's showcase final, but only if he is deemed not too tired and still hungry, the spokesman said.
"We do not want to overburden him," the spokesman said.
The eight-legged oracle forecast German wins over Australia, Argentina, England and Ghana. Proving he is not just attracted to the German flag, he also correctly predicted losses to Serbia and Spain, the latter live on national TV.
But as many World Cup stars have discovered in South Africa, the soccer gods can quickly snatch fame and favor away.
Bitterness at Germany's 1-0 defeat to Spain turned to anger with some sections of the 350,000-strong crowd in Berlin insulting both Paul and his mother.