BEIJING, July 9 (Xinhua) -- A construction site went on fire near the headquarters of Industrial and Commercial Bank of China (ICBC) in Xicheng district, downtown Beijing Friday.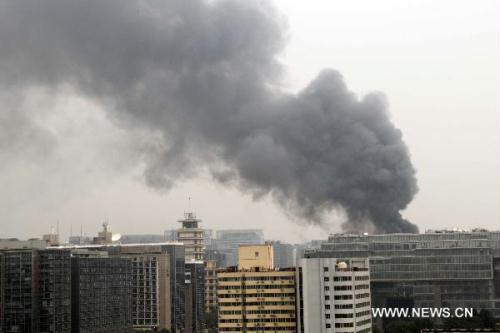 Smoke rises from a building that is on fire in the northeast corner of north
Naoshikou street of Chang'an Avenue of Beijing, capital of China, July 9, 2010.(Xinhua/Gao Xueyu)
The fire on Naoshikou Street, near Chang'an Avenue, lasted about 20 to 30 minutes from 11 a.m., said a employee of China Unicom, a telecommunication company, near the ICBC headquarters.
"At first there was a huge thick smoke. Then came fierce bursts of flames."
Traffic on the road, which was closed during the fire, has resumed. Six fire engines and some police came to put out the fire and investigate the cause.
No casualties were reported, a spokesman for the municipal fire department said.