CHONGQING, July 9 (Xinhua) -- About 15,000 people were evacuated from their homes Friday after torrential rains left two townships in southwest China in flood waters up to 1.2 meters deep.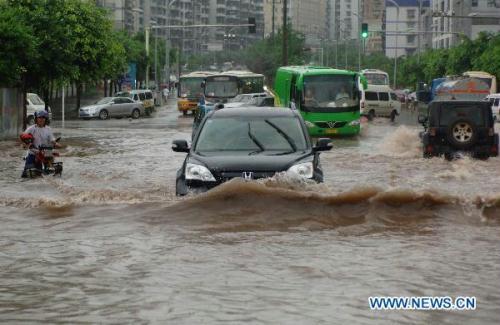 Cars run on a waterlogged road in Jiangbei District of Chongqing municipality,
southwestern China, July 9, 2010. The heaviest thunder storm since the flood
season began hit main urban zone of Chongqing on Thursday morning. The municipal
flood control authority started a warning system for seriously heavy rain.(Xinhua/Chen Cheng)
No casualties were reported in the flash floods that affected Fenshui Township and Sanzheng Township in Wanzhou County, near the massive Three Gorge Dam project.
A county government spokesperson said more than 6,000 homes were submerged in Fenshui and about 600 houses were destroyed.
The heavy rain also triggered mountain torrents and landslides, said the spokesperson.
Editor:Du Xiaodan |Source: Xinhua