TURPAN, Xinjiang, July 9 (Xinhua) -- Turpan Airport in northwest China's Xinjiang Uygur Autonomous Region began operations Friday.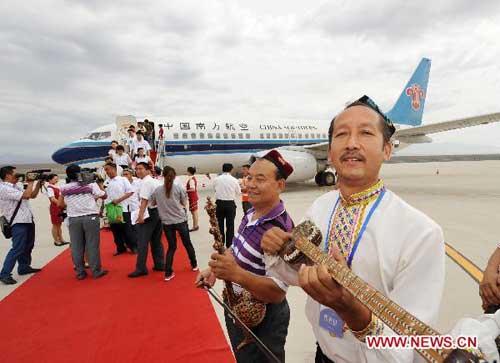 Passengers walk down stairs from the first plane that lands in Turpan airport in
northwest China's Xinjiang Uygur Autonomous Region, July 9, 2010. Turpan airport
opened to air traffic Friday as a plane of China's Hainan Airlines landed here.
(Xinhua/Zhao Ge)
A Boeing 737-700 of China Southern Airlines (CSA) landed at the airport in Xinjiang's Turpan City at 10:55 a.m., marking the airport' s formal opening.
Located in the Turpan area with an average altitude of 32.8 meters, it is the lowest airport in altitude in Xinjiang.
It will mainly serve as a feeder-line airport for domestic flights and also as an alternate airport to the nearby Urumqi International Airport in cases of unfavorable weather, said Yue Zhiping, general manager of the airport.
The CSA is planning to operate a weekly flight from Urumqi to Turpan every Saturday beginning at the end of September, Yue said.
The airport is expected to reach a volume of 400,000 passengers and 1,300 tonnes of cargo per year by 2020, he added.
Editor:Zhang Pengfei |Source: Xinhua