ISLAMABAD, July 10 (Xinhua) -- Death toll of two suicide blasts which ripped through a bazaar on Friday morning in Pakistan's northwest tribal area of Mohmand agency rises to 100, said a regional official Miraj Khan on Saturday.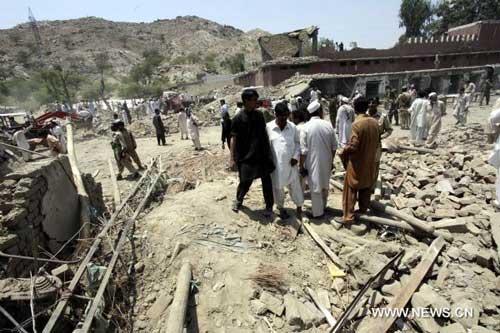 Local residents gather at the site of blast in northwest Pakistan's Mohmand Agency
July 9, 2010. (Xinhua/Umar Qayyum)
The sharp rise of the death toll is due to the fact that many dead bodies were recovered from the debris of the buildings destroyed at the blast site, said the official, adding search for the bodies in the debris is still under way. The rescue work there is progressing very slowly, according to local media reports, adding this is due to the lack of adequate equipment.
On Friday morning, two suicide bombers, reportedly one on a motorbike, another on foot, attacked a political agent's office located at a crowded bazaar in the Tehsil Yakaghand area of Mohmand agency in northwest Pakistan, destroying more than 100 shops and 24 vehicles nearby the blast site apart from causing a huge casualties.
Latest reports coming in say that there are at least 20 people injured in the blasts are still in critical conditions.
Tehrek-e-Taliban Pakistan (TTP) reportedly claimed the responsibility following the suicide blasts, but there are also reports among local media that TTP has denied any involvement in the attack.
Pakistan army spokesman accused TTP of eating back its words of not targeting civilians uttered by TTP's spokesman following last Thursday's suicide bomb attacks at a shrine in the country's eastern city of Lahore, which killed 47 innocent civilians and injured 175 others.
Friday's twin suicide blasts are the third of its kind occurring in the country within the past ten days. The previous two suicide attacks, one in Lahore and the other at an army camp in Pakistan's northwest tribal area of Lower Dir on July 5, killed 48 people and injured 192 others altogether.
The recent repeated occurrence of suicide bomb attacks in Pakistan has drawn strong condemnations from both home and abroad. On Friday Pakistani Prime Minister Gilani condemned the atrocities committed by terrorists and ordered an immediate inquiry into the incident.
Meanwhile, the government announced 100,000 rupees (1,176 U.S. dollars) each for the killed people in Friday's blasts and 50,000 rupees (588 U.S. dollars) each for the wounded.
Editor:Zhang Pengfei |Source: Xinhua