TOKYO, July 12 (Xinhua) -- Japan's ruling Democratic Party of Japan (DPJ) garnered 44 seats in upper house election Sunday, suffering a major defeat and lost the majority of seats in the upper house, TV asahi reported.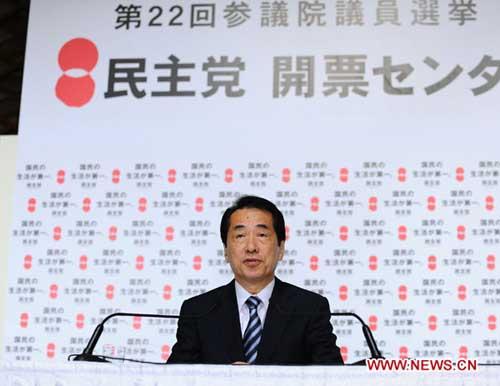 Japanese Prime Minister Naoto Kan, who is also head of the ruling Democratic Party
of Japan (DPJ), attends a press conference at the party election campaign
headquarters in Tokyo on July 11, 2010. (Xinhua/Ji Chunpeng)
A total of 437 candidates are contesting for the 121 seats in this year's election. The DPJ garnered 44, far less than 54 seats it had targeted, while the Liberal Democratic Party (LDP), the main opposition, secured 51. The DPJ's junior coalition partner People's New Party gained no seats in the election.
The DPJ will remain in power because the party is controlling the more powerful lower house, or the House of Representatives. However, the result of the election is going to have a great impact on whether the ruling coalition can pass bills smoothly.
Editor:Zhang Pengfei |Source: Xinhua