BEIJING, July 10 (Xinhua) -- Chinese Vice Premier Hui Liangyu Saturday called for more efforts to flight floods, as many parts of China have been ravaged by torrential rains again in recent days, triggering landslides and taking water above dangerous levels.
Hui, who is also the director of the Office of State Flood Control and Drought Relief Headquarters (SFDH), said at a work conference that continuous heavy rains in south China have added to difficulty in fighting the floods, but local governments must use all resources to ensure people's safety.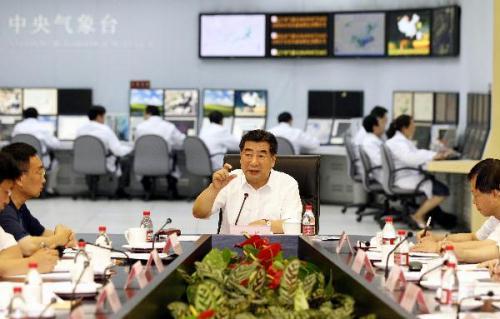 Chinese Vice Premier Hui Liangyu (facing camera) presides over an emergency meeting
of the State Flood Control and Drought Relief Headquarters in Beijing July 10, 2010.
(Xinhua/Ding Lin)
Hui said local governments should be prepared for bigger floods, especially in the areas along the middle and lower reaches of the Yangtze River, Poyang Lake, Dongting Lake and Huaihe River.
He also asked relevant departments to closely monitor the weather and issue alerts promptly, reinforce dams and dikes as well as resettle people affected by the floods.
Hui said the governments in south China must dredge irrigation ditches to minimize effects of heavy rains on agricultural production.
Further, information about the flood situation and disaster relief efforts should be made public in a timely, objective, open and transparent manner, he added.
The rainstorms pounding southern China have left 50 people dead and 15 missing in 9 provinces in the last ten days, according to the Ministry of Civil Affairs.
Related stories
Editor:Jin Lin |Source: Xinhua