BEIJING, July 11 (Xinhua) -- China's Central Meteorological Station warned Sunday that rainstorms would again batter many provinces and regions in the coming days bringing with it bigger risks of new flooding and other geological disasters in central and eastern China.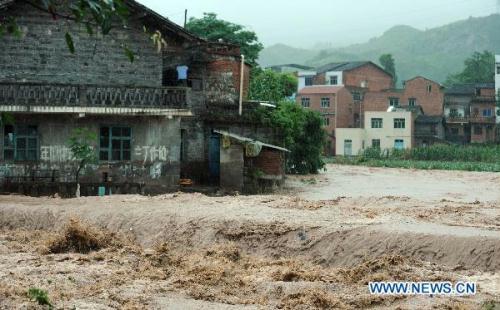 Photo taken on July 10, 2010 shows the flood in Fenshui Town, Wanzhou District of
Chongqing, southwest China. The rainstorm hit here again one day after it triggered
landslides and flood on Friday.(Xinhua/Zhou Hengyi)
From Monday until Wednesday, the observatory forecast some regions in provinces including Guizhou, Hunan, Hubei, and Anhui will see heavy rain.
Eastern Jiangsu, Zhejiang, Jiangxi, central Henan, Chongqing and Shanghai will also see rainstorms during the next three days.
A total of 14.92 million people in 10 provinces and regions along China's longest river, the Yangtze, have had their lives disrupted after torrential rains began pounding since July 8, a statement from the Office of State Flood Control and Drought Relief Headquarters (SFDH) said Sunday.
Rain-triggered floods also brought damage to 806,000 hectares of farmland and destroyed 20,000 houses, with direct economic losses standing at 8.6 billion yuan (1.3 billion U.S. dollars), a statement from the flood control authority said.
Related stories
Editor:Jin Lin |Source: Xinhua