China has a tremendous stock of historic relics and artifacts from its long history. During the past few years, many museums have started to use technology to make them more appealing to today's visitors.
Among these pioneers, China's Palace Museum is one of the most successful.
Since it launched the Virtual Forbidden City online travel community and the Beyond Time and Space project in 2008, the museum has attracted more than 300,000 registered visitors in the virtual world. The numbers of those who participated in the project online are even higher.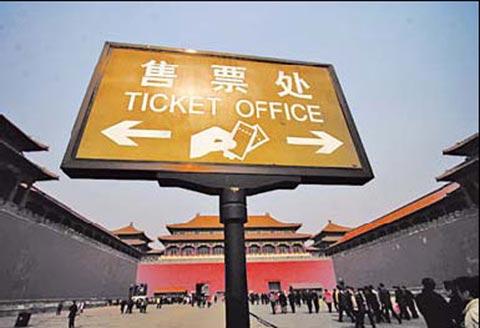 The visitors' entrance to the Palace Museum in Beijing. [Photo Source: China Daily]
"The project gave visitors richer and easier access to the imperial city and the ancient building complex with as many as 8,707 rooms and 1.5 million articles on art," said Hu Chui, head of the museum's information department, who is leading a team of 60 to boost the museum's digital presence.
The Forbidden City is the world's largest surviving imperial palace complex and served as the home of the emperor and his household. It was also the ceremonial and political center of the Chinese government from 1420 to the early 20th century.
It was listed as a World Heritage Site in 1987 by UNESCO and contains the largest collection of preserved ancient wooden structures in the world.
Despite having more than eight million visitors annually, many people are largely ignorant of its architecture and antique collections. They are often likely to go to the palace only to boast that they have been in the emperor's bedroom.
"That's why we are committed to digital technology. It could make learning more attractive," said Hu.
Beyond Time and Space was established with the help of IBM. The US technology giant spent more than three years working with Chinese officials and the Palace Museum staff to construct an interactive, animated replica of the 178-acre (720,000 square-meter) walled fortress in the Dongcheng district of Beijing.