TOKYO, July 12 (Xinhua) -- The ruling Democratic Party of Japan (DPJ) on Monday suffered a crushing loss in the upper house election held on Sunday, its first national election since last year's change of government.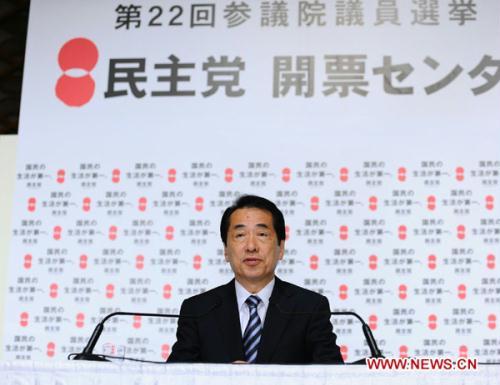 Japanese Prime Minister Naoto Kan, who is also head of the ruling Democratic Party
of Japan (DPJ), attends a press conference at the party election campaign headquarters
in Tokyo on July 11, 2010. Japan's ruling coalition, headed by DPJ, is certain to lose
the majority of seats in the upper house in Sunday's election. The opposition camp, led
by the Liberal Democratic Party (LDP), secured more than half of the 121 seats up for
grabs.(Xinhua/Ji Chunpeng)
Quite apart from failing to reach their pre-election target of 54 upper house seats, the beleaguered DPJ actually won fewer seats than their closest rivals the Liberal Democratic Party (LDP), in a defeat that few could have foreseen just a matter of weeks ago.
Having no majority and no obvious path to a coalition, the result leaves the DPJ in a thorny position, with their ability to oversee the nation's fiscal reform, clearly hindered.
Assessing the underlying reasons for the reverse, Prime Minister Naoto Kan admitted that his comments about consumption tax in the build up to the election had been "careless," and the nation' leader now faces major issues of legislative deadlock when it comes to trying to pass new bills.
Despite the prime minister frankly admitting his shortcomings on Monday, he insisted that rather than stepping down, he would work even harder to secure cooperation from other parties and try to avoid a possible political stalemate.
Japan's upper house elections are usually a good indication of a leader's ability to build a stable government and it is not unknown for an embarrassing defeat to bring about a change in leadership. As recently as the last House of Councilors election in 2007, Shinzo Abe quit his post as the head of government after a crushing loss.
Kan's opposite number and LDP leader Sadakazu Tanigaki meanwhile was wholly satisfied by his party's performance in winning 51 seats to the ruling bloc's 44, saying that he believes the LDP has now been "reborn" and that there was "zero chance" of the main opposition party allying with the DPJ. Indeed Tanigaki is predictably calling for an early general election, saying that it was necessary for the DPJ to swiftly dissolve the House of Representatives and seek the voter's opinions.