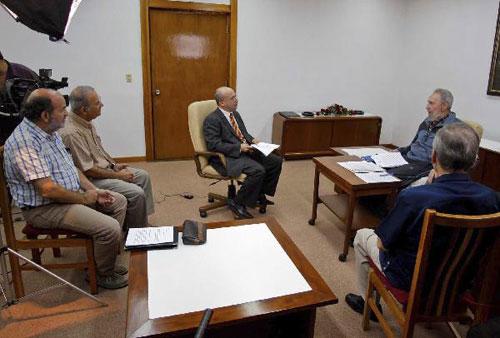 Cuban revolutionary leader Fidel Castro speaks on Cuban television July 12, 2010.
It is the first speech on television since his recovery from hospital in July 2006.
(Xinhua/Reuters Photo)
HAVANA, July 12 (Xinhua) -- Former Cuban Leader Fidel Castro appeared on Monday in the national TV program "Mesa Redonda (Round Table)" to analyze the situation in the Middle East and on the Korean Peninsula.
This was Castro's second public appearance in less than a week, after he handed over power to his younger brother Raul Castro in 2006 due to an intestinal surgery.
In June and September 2007, the Cuban TV broadcasted interviews with Castro, and later in August 2009, it was broadcasted some students visited him in his home.
Castro, 83, reappeared in public on Wednesday when photographs, broadcasted by the local media, showed the former leader smiling and talking with people during a visit to the National Scientific Research Center in Havana.
Castro has been writing editorials, warning of possible attacks by the United States and Israel against Iran to end its controversial nuclear program.
Related stories