BEIJING, July 13 (Xinhuanet) -- Consumer Reports, America's trusted source of product reviews, said on Monday it will not recommend Apple Inc.'s iPhone 4 because it has a hardware flaw with its antenna that causes signal quality to degrade.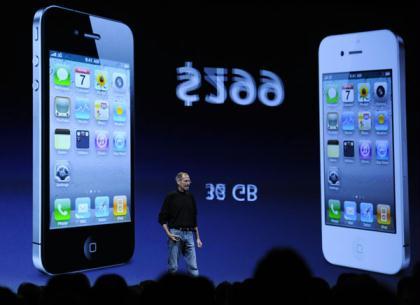 Apple CEO Steve Jobs demonstrates the new iPhone 4 during the Apple
Worldwide Developers Conference in San Francisco, California, the
United States, June 7, 2010. (Xinhua/Qi Heng)
After the iPhone 4 went on sale in June, buyers started complaining that holding the gadget a certain way could cause reception to fade and calls to drop.
"The problem seems to be a design flaw, and it is significant," Mike Gikas, senior electronics editor for Consumer Reports, was quoted as saying by Bloomberg in an interview.
Apple has said that any phone will lose signal strength when gripped in certain ways, but Consumer Reports said it tested several phones that use AT&T Inc.'s network, and only the iPhone 4 seemed to have the reception issue.
And despite early reports of problems with the iPhone 4 antenna, Apple sold 1.7 million units in just three days, making it the best-selling new technology gadget in Apple's history, the New York Times reported.
Related stories