by Huang Yi, Zhang Xin
PARIS, July 12 (Xinhua) -- French President Nicolas Sarkozy, seeking to regain his reputation, came on national television Monday evening, explaining cabinet reshuffle, retirement reforms and economic growth, his ways to save the country.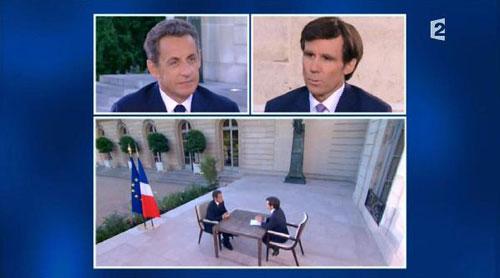 France's President Sarkozy (L), seen in this video grab from France2 Television,
appears during a prime time news interview with journalist David Pujadas on
France2 television in the garden of the Elysee Palace in Paris July 12, 2010.
(Xinhua/AFP Photo)
In a one-hour interview on local television France 2, Sarkozy confirmed a cabinet reshuffle would occur this October, right after pension reform.
Although speculations are circulating that the reshuffle will come before September following a series of recent ministers scandals, Sarkozy has excluded that possibility.
"There would be, hence, a new step of political action that I would conduct after the pension reform at the end of October," he said.
His agenda, which will be submitted to the Council of Ministers on Tuesday, includes raising the legal retirement age from 60 to 62. France, like those in Europe, is trying to rein in runaway national debt by encouraging his people to work longer.
"France is the only country in Europe with the most number of young unemployed and the least number of senior employees," said the president.
Sarkozy also called regional administrations to tighten their spending and follow the central government's strategy to slim the size of public servants, adding that he aimed at cutting 100,000 civil servants in the central government in three years.
Meanwhile, France has promised the European Commission to reduce its public deficit to 3 percent of GDP by 2013. The government has already decided to slice the deficit from the present 8 percent to 6 percent in 2011.
In order to dilute the political scandal undermining the government's reputation, Sarkozy, for the first time in public, firmly denied the allegation that he accepted illegal donation from L'Oreal heiress, Liliane Bettencourt, during the 2007 presidential campaign.
Bettencourt was accused of evading taxes via offshore accounts and illegally providing 150,000 euros (189,241 U.S. dollars) to President Nicolas Sarkozy in campaign donations.
The revelation of illegal political donation has given a hard blow on Labor Minister Eric Woerth, Sarkozy's campaign treasurer, and also the pillar advocate and conductor of the pension reform.
A report from the tax inspector of the Finance Ministry on Sunday said Woerth did not use his power as budget minister to help Bettencourt evade taxes.
With economic woes of lagging recovery, rising unemployment rate and a crisis of confidence generated by high ranking officials' luxury expenses, the allegation is driving the government further into a corner.
Nevertheless, the French president also voiced his support and approval for Woerth, but suggested Woerth quit the treasurer of the ruling UMP party so that he could fully concentrate on the pension reform.
The president said he would set up next week a commission of all political parties to study possible conflicts of interest, including the ministers and parliament members.
Facing a 30-percent approval rating reported by Opinionway, the lowest three years into his presidency, and the request by 69 percent population to reshuffle the government, Sarkorzy has no choice at the moment but to do something accordingly to salvage his political future.
Related stories