BEIJING, July 14 (Xinhaunet) -- Chinese authorities plan to give Nokia a license to provide online mapping services in China, making it the first foreign firm to get such approval.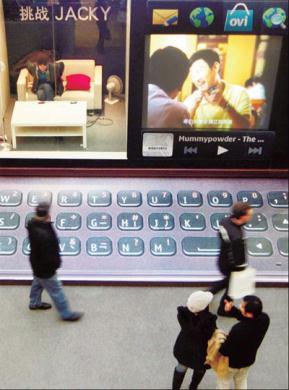 Nokia holds a 3G demonstration in Wangfujing,
Beijing. (Source: China Daily/Wu Mangzi)
The announcement may open doors for other foreign applicants such as Google and Microsoft, which have also reportedly applied for such a license.
China's State Bureau of Surveying and Mapping said it plans to approve the Finnish cellphone maker's application to run its Ovi Map service in China, according to a statement on the bureau's website Tuesday.
To avoid State secrets being disclosed and uncertified maps published online, the bureau launched a regulation in May requiring all companies providing online maps and location services in China to apply for approval.
Since last month, the bureau disclosed a series of initial approvals that include at least 53 domestic firms such as Baidu, Alibaba, Sina and Tencent. But none of the foreign applications had been approved.
It is unclear if the bureau will also approve Google's application. The US search engine had its Internet Content Provider license renewed by the Chinese government last weekend.
That, industry experts said, has significantly increased the possibility of it obtaining approval from the bureau.
"Getting its Internet Content Provider license renewed is a prerequisite for Google to get the license from the bureau," said Ren Yanghui, an analyst from research firm Analysys International.