TONGCHENG, Anhui, July 14 (Xinhua) -- Chinese soldiers Wednesday used explosives to blast part of a leaking dike on a swollen branch of the Yangtze River in east China, preventing the flooding of riverbank villages.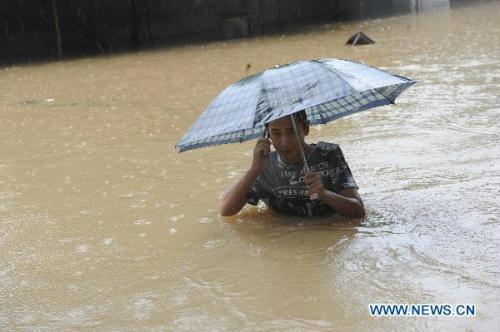 A citizen calls on a waterlogged road in Anqing, east China's Anhui Province, July 13,
2010. Heavy rainfall hit Anqing on Tuesday, causing severe flood in the city. Some 600
soldiers and more than 20 speed boats were dispatched to rescue people trapped by the
flood. More than 20,000 residents have been transfered to safe places.(Xinhua/Xu Guokang)
The plan to demolish part of the Qingcao Township Dike on the Dasha River was delayed Tuesday after torrential waters snapped the explosives' blasting wires.
But soldiers managed to repair the wires and conduct the blast Wednesday, when water levels subsided and weather improved, according to Zhang Jun, an Army official in charge of the disaster relief work in Tongcheng City, Anhui Province.
Water levels at the dike are markedly lower after the blast, Zhang added.
The local disaster relief headquarters decided to blast the dike Tuesday after experts, army officials and engineers met to consider the options available.
Days of torrential rains have caused many leaks on dikes on the Dasha River. More than 1,000 residents living along the river were evacuated.
Hundreds of armed police fought the flood at Qingcao Township from July 7. Various measures, including laying sandbags on the riverbank, were taken to prevent any inundation.
The continuous downpours in Anhui have resulted in the deaths of at least two people and disrupted the lives of more than 4 million.
Related stories
Editor:Jin Lin |Source: Xinhua