MANILA, July 14 (Xinhua) -- Typhoon Conson, which hit Philippines' main island of Luzon, has already claimed eight lives as of Wednesday afternoon, Philippines' National Disaster Coordinating Council (NDCC) said.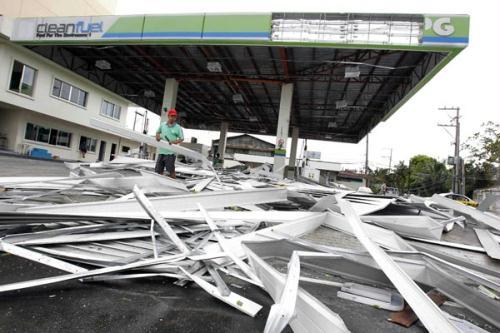 A worker inspects a roof damaged by Typhoon Conson in front of a gas station in Manila
July 14, 2010. Typhoon Conson cut power supplies across Metro Manila and surrounding
provinces as it swept across the main Philippine island of Luzon to the South China Sea
and headed towards southern China on Wednesday.(Xinhua/Reuters Photo)
Five of the victims were killed by falling trees and from electrocution in south of Manila, the capital of the Philippines.
NDCC further reported that the three others drowned at sea in northwestern and southeastern part of Manila while rescue operation for the 57 missing people is still ongoing.
As of Wednesday afternoon, about 137 families from Central Luzon, Southern Tagalog and Bicol regions were displaced while nearly 5,000 people were stranded in ports, NDCC executive officer and concurrent Office of the Civil Defense chief Benito Ramos said.
Conson, which is expected to leave the country's area of responsibility by Thursday, has cut down power lines in Luzon and causing a nationwide blackout.