BEIJING, July 14 (Xinhua) -- Chinese President Hu Jintao on Wednesday urged the Communist Party of China and the whole country to give priority to education in their work, in order to build a moderately prosperous society, push forward socialist modernization, and achieve the great rejuvenation of the Chinese nation.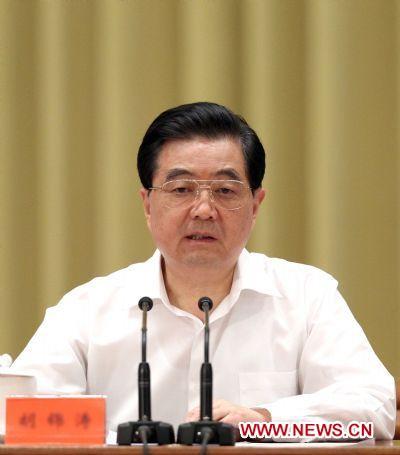 Chinese President Hu Jintao delivers a speech during the work conference on national
education held in Beijing from July 13 to July 14, 2010.(Xinhua/Liu Weibing)
Hu made the remarks during a high-profile work conference on national education in Beijing.
Education was the cornerstone of national rejuvenation and social progress, and the basic means to improve all-round development of individuals, Hu said during the conference.
Strategic priority should be given to education in the work of the Party and the country, he said, adding that financing and public resources should be allocated in favor of education and human resources development.
He said education reform and development should be student-oriented, and urged authorities to implement quality education, to hone the students' sense of responsibility, their innovative spirit, and their capacity to solve practical problems.
He said authorities should be innovative when deepening education reform and enhancing international education cooperation, and should promote education equality by protecting citizens' lawful rights to education, supporting those in need, and promoting balanced education development between different regions and between urban and rural areas.
He also urged authorities to focus on the quality of education, and called for efforts to put together a contingent of noble, enthusiastic and high-quality teachers.