HOUSTON, July 15 (Xinhua) -- BP on Wednesday began shutting off the flow of oil through a new cap on its blown-out well in the Gulf of Mexico to test the capacity of the device.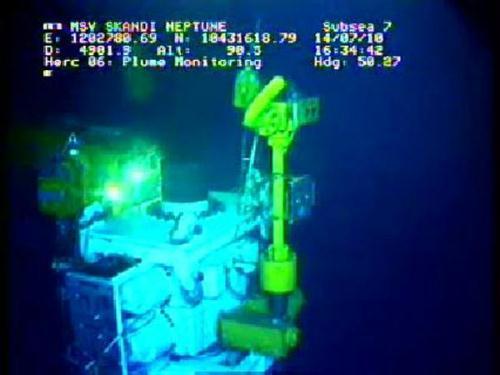 This still image from a live BP video feed shows oil gushing from a leaking BP oil
well-pipe after a new sealing cap was installed in the Gulf of Mexico. BP received
the green light Wednesday from the U.S. government and began a crucial test that
could allow the leaking Gulf of Mexico oil well to be sealed once and for all.(Xinhua/AFP Photo)
BP's vice president Kent Wells said at a news briefing in Houston that the London-based oil giant has closed the first of three openings that have been letting oil flow through the new cap it installed over the leak on Monday.
It will take hours before all the three openings are closed and then, work will begin on a test of the new cap's capacity, to get data including the pressure inside the device, in part to make sure no new leaks develop.
It's the first that BP is so close to stopping the weeks-long oil leak in the Gulf of Mexico, triggered by the explosion of BP leased Deeptwater Horizon drilling rig off the Louisiana coast on April 20.
Wells said they will review the results of the test at six hour intervals over a 48-hour period.
BP had planned to start the so-called well integrity test on Tuesday, but Thad Allen, the U.S. commander for the spill response, said the test was delayed due to an "overabundance of caution" about the effect the pressure could have on the leaking well.
Editor:Jin Lin |Source: Xinhua