ISLAMABAD, July 15 (Xinhua) -- Casualties in the suicide blast in Pakistan's northwest city of Mingora on Thursday have risen to 50, local media reported.
According to the reports, so far at least five people were killed and 45 others including two women and seven children were injured in the blast and many of the injured who have been shifted to a nearby hospital are said to be in critical condition.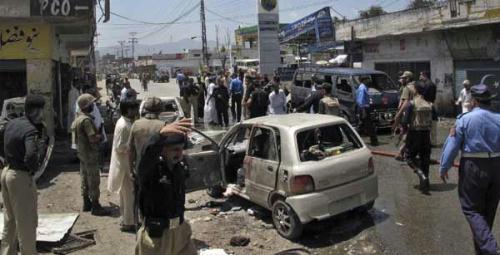 Pakistani security officials and rescue workers survey the site of a suicide bomb
attack in Mingora, Swat July 15, 2010. Casualties in the suicide blast in Mingora
on Thursday have risen to 50, local media reported. (Xinhua/Reuters Photo)
About eight vehicles including three military vehicles of the convoy were damaged in the blast, said eyewitnesses, adding that the legs and body parts of the suicide bomber were found on the blast spot.
Police have cordoned off the area where the blast took place and a large-scale search operation has been put underway, said police sources, adding that a bomb disposal squad is now searching the area for other possible bombs.
The blast took place at about 12:30 p.m. local time when a suicide bomber blew himself up among a convoy of security forces which is patrolling nearby a general bus stand in the downtown area of Mingora where a large-scale tourist festival is being held in the city, attracting thousands of visitors both from the city and the other parts of the country.
Local media said that the police had received a prior warning that a young suicide bomber had entered the city for possible attacks.
Related stories
Editor:Zhang Jingya |Source: Xinhua