The remains of a 18 century ship have been uncovered by workers at World Trade Centre site in lower Manhattan.

Archaeologists said the 32ft-long vessel was probably used along with other debris to fill in land to extend New York City into the Hudson River.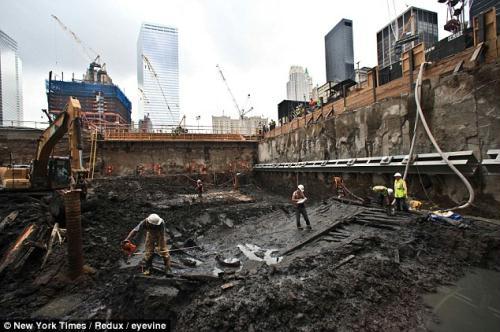 Ship-shape: Archaeologists work on the remains of an 18th century ship found
buried at the site of the World Trade Centre yesterday.
Archaeologists Molly McDonald and A. Michael Pappalardo from AKRF, a firm hired to document artefacts discovered at the site, examined the ship when it was found by staff about 30ft below street level in a planned underground vehicle security centre.

They called Tuesday's find significant but said more study was needed to determine the age of the ship.

A boat specialist was due at the site today to further investigate the find which is turning into a race against time after the delicate wood was exposed to air.

An anchor weighing seven stone was also discovered at the site, although investigators said it was unclear whether it belonged to the newly-unearthed ship.
The 2001 terrorist attacks destroyed the iconic Twin Towers, prompting a competition to design their replacement. Work on One World Trade Centre, a single skyscraper originally named Freedom Tower, started in 2006. The 1,776ft building is expected to be completed and open by 2013.