BEIJING, July 16 (Xinhuanet) -- Apple has no plans of recalling iPhone 4, according to a report of the Wall Street Journal on Thursday.
Users have been complaining about the phone's reception problems since its release on June 24. Many cited the phone's unstable signal when they hold the device with their left hands.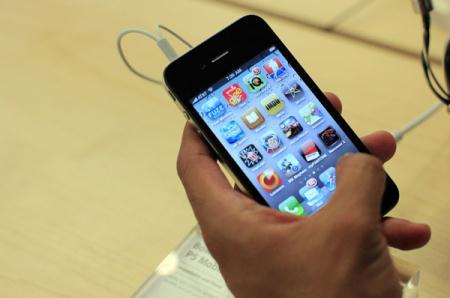 A customer looks at an iPhone 4 at the Apple Store 5th Avenue in New York
June 24, 2010. People lined up hours in advance hoping to snag one of the
"limited" quantity slated for retail sale only. AT&T will begin selling the
iPhone 4 at retail on June 29, on a first-come first-served basis.
(Xinhua/Reuters Photo)
Reports suggest this is because grasping the phone like this covers a small gap separating the two ends of iPhone 4's perimeter antenna.
The Wall Street Journal article said Apple engineers knew of the antenna problem beforehand, but pressed on with the phone's development and launch.
Bloomberg BusinessWeek reported earlier Thursday that Apple CEO Steve Jobs ignored the design flaw, but an Apple spokesman said, "We challenge Bloomberg BusinessWeek to produce anything beyond rumors to back this up. It's simply not true."
Apple has called a news conference at its headquarters to discuss the issue Friday. But according to the Wall Street Journal, "a person familiar with the matter" said Apple doesn't plan to recall the phone.
Analysts said Apple would most likely offer free or discounted rubber cases to insulate the antenna from human touch, thus minimizing the reception trouble.