It's 10:30am at the New Yansha Shopping Mall, and the sound of drums and cymbals reverberates through the air. At the north face of the mall, the ceremonies have begun. Following the beat of the cymbals, two ceremonial lions begin to dance and twirl, accompanied by several acrobats who perform flips and leap from side to side. The traditional acrobatic performance marks the opening of a new Tourism Information Booth inside the massive shopping center—the first of its kind in Beijing. The Information booths are regulated by the Beijing Tourism Bureau, and run by the Beijing Tourism Group (a private company that caters to Beijing's massive tourist market).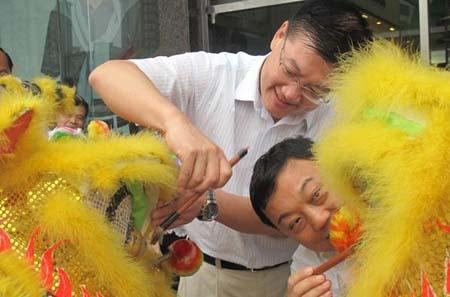 At the north face of the at the New Yansha Shopping Mall, the ceremonies have
begun.
Mr. Gao Fei and Mr. Sun Wei Jia both stand in front of the entrance to the mall, watching the flying acrobatic performance and smiling with pride. Sun is the vice-director of the Beijing Tourism Bureau, and Gao is the Vice-President of the Beijing Tourism Group. The drums suddenly stop, and the dancing lions bow their heads. Both men step forward and, following an ancient tradition, paint the lions' eyes—marking the official opening of information booth. There are nearly 80 such information booths—administered by Mr. Sun and the Tourism Bureau— scattered around the city in what Sun describes as "a network".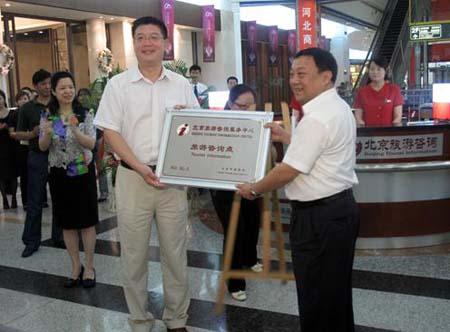 New tourist information booth at Yansha Mall
The first such booth opened its doors in 2001, and the program has grown rapidly ever since—receiving a major boost during the lead-up to the 2008 Olympic games. Mr. Sun says he chose the new location for the Information center because most tourists coming to Beijing end up going shopping, whether it be at the Yansha Mall or elsewhere. The majority of tourists entering the city are Chinese nationals, with many coming from Tianjin and the surrounding provinces for the sole purpose of shopping at Beijing's huge malls and retail centers.
Even the foreign tourists who enter Beijing frequently go to such malls to purchase souvenirs, Sun says. Therefore, the booths cater to both foreigners and Chinese citizens, and anyone else who needs information about Beijing. The booths always have an English-speaking employee on staff and are able to provide free maps, booklets, and metro guides as needed.