BEIJING, July 16 (Xinhua) -- Chinese Premier Wen Jiabao said Friday the slowdown in China's economic growth rate in the second quarter was due to the government's "active regulation and control."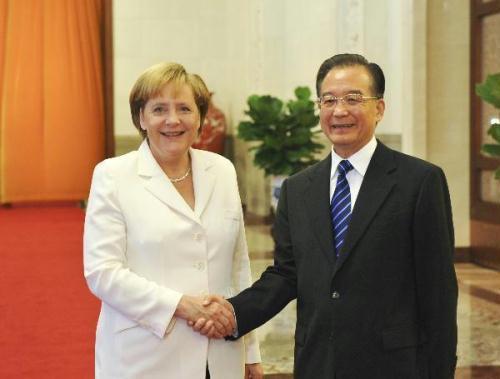 Chinese Premier Wen Jiabao (R) hosts a red-carpet welcome ceremony for visiting
German Chancellor Angela Merkel in Beijing, China, July 16, 2010.(Xinhua/Li Xueren)
Wen made the remarks in Beijing at a press conference with visiting German Chancellor Angela Merkel.
China's economy expanded 11.1 percent in the first six months of the year on a year-on-year basis, after expanding 10.3 percent in the second quarter and 11.9 percent in the first quarter, the government said Thursday.
"China's economy, in general, is consistent with the government's macro-economic regulation and control," Wen said.
According to Wen, the theme for regulation of the economy in the second half of this year is "the maintenance of stability in policy."
"Efforts will be made to balance continued steady and fast growth with the restructuring of the economy and the management of inflation expectations," he said.
"China will keep its pro-active fiscal policy and moderately loose monetary policy," he said.
Wen stressed the importance of domestic, "self-generated" factors for the steady and relatively fast economic growth.
More efforts will be made to rebalance the economy and improve energy efficiency, he said.
Efforts will also be made to push forward the reform of the economy to formulate a mechanism to achieve sustainable growth while improving people's lives and social harmony, he added.
China set an annual economic growth target for 2010 at around 8 percent, with an increased focus on the quality of growth, according to Wen's 2010 government work report.
Wen attended the press conference with Merkel after the two had talks.
Editor:Jin Lin |Source: Xinhua