TEHRAN, July 15 (Xinhua) -- At least 20 people were killed Thursday in two explosions that hit a mosque in Iran's southeast city of Zahedan, the restive capital of Sistan-Baluchestan province, officials said.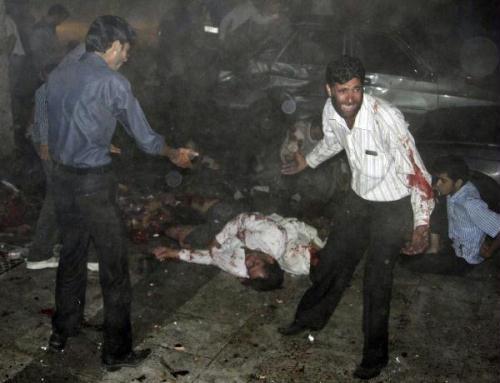 Bodies of victims of bomb blasts lie on the street, in the city of Zahedan, southeast
of the capital Tehran, Iran, July 15, 2010. At least 20 were killed and more than 100
injured in two explosions that hit a mosque in Iran's southeastern city of Zahedan on
Thursday. (Xinhua/Reuters Photo)
"Two explosions in the front of Zahedan's Grand Mosque have left more than 20 dead and over 100 injured," Fariborz Rashedi, head of Sistan- Baluchestan's emergency unit, told the official IRNA news agency.
In an email sent to pan-Arab TV channel al-Arabiya, the Jundallah rebel group said it launched the attacks in retaliation for Iran's execution in June of the group's leader, Abdolmalek Rigi.
"The group said the suicide attacks were carried out by Abdolbaset Rigi and Mohammad Rigi...and warned of more operations to come," al-Arabiya reported.
The first of the twin explosions occurred at 9:20 p.m. local time (1650 GMT) in front of the provincial capital city's Grand Mosque, followed by the second within minutes, IRNA said.
Deputy Interior Minister Ali Abdollahi described the incident as a "terrorist act."
Among those killed in the blast were members of the Islamic Revolution Guards Corps (IRGC), the country's elite military force, the official said.
On June 20, Iran hanged Abdolmalek Rigi after he was convicted of various charges including armed robbery, bombings in public places, armed attacks on the army, police and civilians, assassination attempts, disrupting regional stability, kidnapping and murder.
Editor:Jin Lin |Source: Xinhua