HOUSTON, July 16 (Xinhua) -- British oil company BP's test on the ruptured oil well in the Gulf of Mexico went so far so good and a company official said Friday pressure within the new well cap was steadily rising.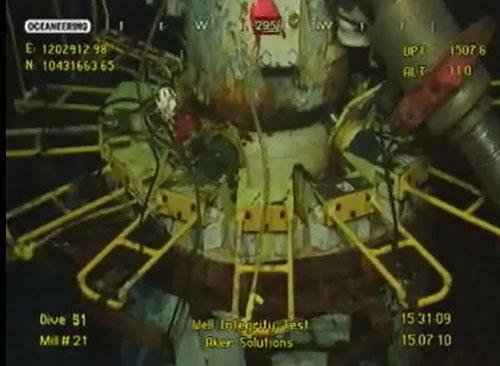 The new containment cap is seen during the "well integrity testing" in the image
grabbed from the BP's live video feed in the Gulf of Mexico, July 15, 2010.
British oil giant BP said Thursday the new cap on well is fully closed and no oil
is going into Gulf during the well integrity test conducted by the company.
(Xinhua/BP LIVE FEED)
Since the BP well was shut-in as of 2:25 p.m. local time Thursday, pressure within the 75-ton capping stack has been rising steadily and now was up to 6,700 pounds per square, BP Senior Vice President Kent Wells said Friday.
Higher pressure readings are positive because it means the well is containing the oil, while lower pressure means new leaks may have appeared after BP choked off the flow of oil from the top of the well.
If the pressure rises above 8,000, it would indicate that no oil was being leaking through a new leak and that the well was undamaged and able to withstand the pressure of the cap, officials have said.
Meanwhile, Wells said, remotely operated vehicles trolling the sea floor around the well bore and two other capturing sonar data have not detected any breaching yet.
BP's so-called "well integrity test" began Thursday after two days of delays, first as government scientists scrutinized testing procedures and then as BP replaced a leaking piece of equipment known as a choke line.
The company said oil stopped leaking at 2:25 p.m. local time Thursday after engineers gradually dialed down the amount of oil flowing through the last of three valves on the cap.
It's the first time that BP completely stopped the oil leak since the BP-leased Deepwater Horizon drilling rig exploded and sank off the Louisiana coast in late April, killing 11 workers and unleashing the worst spill in U.S. waters.
Wells said BP will run a second seismic survey Friday to check for a breach in the well. It will take 24 hours to evaluate the seismic tests.
The test will last between six to 48 hours, and during that period, the three ram capping stack is closed, effectively shutting the well and all sub-sea containment systems have been temporarily stopped.
Data gathered during the test will be reviewed at 6-hour intervals. Wells said any decisions to end the test or re-open the well will be made by federal officials.
Meanwhile, Wells said work restarted Friday on the drilling of the first of two relief wells, which is seen as the only permanent way to plug and seal the breached underwater well.
Related stories
Editor:Zhang Pengfei |Source: Xinhua