Workers rushed to contain an oil spill covering up to 50 square kilometers from seeping further into the Yellow Sea on Sunday, two days after an explosion at an oil storage port in Dalian, Liaoning province.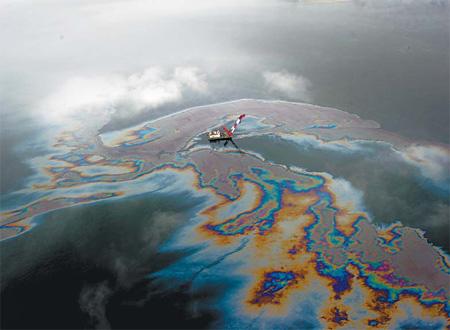 The view above an oil spill in the Yellow Sea on Saturday. An oil pipeline
explosion in the coastal city of Dalian on Friday had created a leak that
has been spewing into the sea.(Tian Jingyue / Xinhua)
An oil pipeline exploded at 6 pm on Friday near Dalian's Xingang Harbor, triggering another blast at a smaller pipe nearby, Xinhua News Agency reported.
Both pipelines, owned by China National Petroleum Corp (CNPC), caught fire. Firefighters put out the blaze at the larger pipeline at around midnight. But at least five subsequent explosions fueled the fire at the smaller pipeline.
More than 2,000 firefighters fought the blaze and most of the fire was put out on Saturday morning, 15 hours after the initial explosion, Xinhua reported.
The local fire department was still cooling down affected oil tanks on Sunday to prevent any further risk of fire.
No deaths were reported in the fires.
The first blast occurred on Friday evening when a Liberian oil tanker was offloading oil, Chen Zhigang, an officer with the frontier station in Xingang Harbor, told China Daily.
An inspection team was formed on Sunday morning to investigate the blast but the cause of the accident has not yet been determined, said Sun Benqiang, deputy chief of the municipal work safety bureau.
President Hu Jintao and Premier Wen Jiabao issued instructions on firefighting work.Vice-Premier Zhang Dejiang rushed to the scene on Friday night to direct operations.
After the fires were extinguished, workers began using oil skimmers and dispersants to contain the oil slick from spreading beyond the port into the Yellow Sea.