BEIJING, July 19 (Xinhuanet) -- Chocolate, waffles, beer, and diamonds have made Belgium famous.
Interestingly, none of the raw products are of Belgian origin, but people are so talented that the finished product bears a memorable Belgian label.
Few people take enough time to look beyond the surface, but those who are willing to slow down and spend four or five days in the relatively small country are well rewarded.
Belgium offers the perfect combination of old and new, casual and serious. The beauty and charms are low key.
Manneken Pis
A Brussels landmark, Manneken Pis (Dutch for little man urinating) holds a cultural significance similar to that of Copenhagen's Little Mermaid.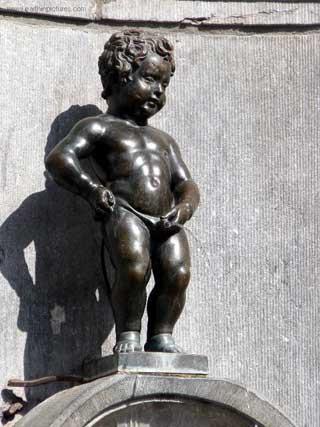 Manneken Pis
The 60-centimeter high bronze statue of the naked boy peeing into a fountain basin stands in a modest corner where it was placed in 1618. It's unguarded and thronged with hundreds of people from around the world.
Several times a week, he wears different costumes signifying different events, such as a cycling costume for the Tour de France.
His wardrobe contains more than 800 gift costumes, some dating to the 17th century.
China delivered a "panda costume" in June to Manneken Pis to mark Chengdu Day at the World Expo 2010 in Shanghai.
Visitors are lucky if they can actually see the naked statue. The changing of costumes is a colorful ceremony, with a loud brass band.
Many legends surround the character of Manneken Pis. A favorite story goes that a little war hero saved the city by peeing on a burning fuse of explosives.