You might think frolicking in the surf sounds like a cool way to spend a day - but professional photographer Clark Little reveals there is a lot more rough and tumble that comes with his job.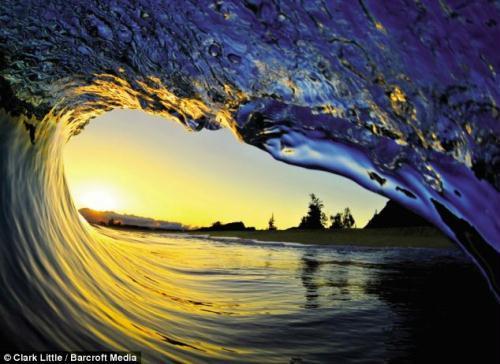 Good Morning: Photographer Clark Little frames the rising sun with a breaking wave
off the coast of Hawaii
Standing in the shadow of giant breakers in Hawaii - home to some of the planet's biggest waves - Little waits until the last moment to capture these spectacular images... before the crushing impact hits him and literally sweeps him off his feet.
Despite the dangers of broken bones from being slammed into the seabed, drowning or even being attacked by sharks, Little's passion for the awesome power of surf drives him back into the water every day.
Now his personal favourites from a stunning collection four years in the making - and some never-before-seen images - are available in a new calendar.
Included in the mix is 'Good Morning' - the moment Little spotted the rising Sun perfectly cupped by a curling wave.
Another image, Typhoon, shows the underside of a wave shot from the sea floor straight at the sky.
Another breathtaking image, of Hawaii's golden sand being sucked up into an otherwise clear breaking wave, is deceptively benign.
Little revealed that the beauty of this image in particular hides a dangerous secret.
If he do not time the large wave right and escape out the back of the wave, the full force will come down on me and push me into the sand.
Another concern is sharks are known to feed in the early morning or late afternoon, which is when the sun pictures work best.
Having lived on the North Shore of Oahu, Hawaii, for 35 years, Clark has never been far from what captivates him most.
And his camera - typically a Nikon D300 - lets him freeze for everyone the jaw-dropping sights he has enjoyed all his life.
Clark's new calendar is available now in the UK through his website www.ClarkLittlePhotography.com.