BEIJING, July 19 (Xinhuanet) -- The tiny Philippine island of Boracay is famous for its 4-kilometer-long White Beach and there Zhang Qian met a Shanghai couple who packed it in, bought a yacht and moved to the tropical paradise.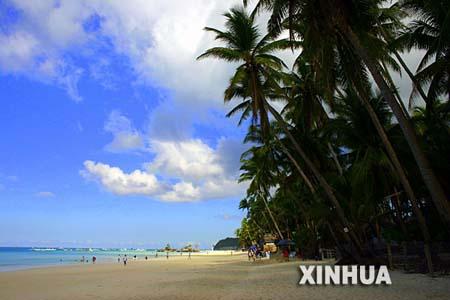 Boracay, Philippines (Xinhua File Photo)
If long, unspoiled tropical beaches are your thing, the tiny Philippines island of Boracay is a tempting destination with its 4-kilometer-long White Beach.
Boracay, around an hour's flight from Manila, is world famous for its beach, which rivals popular stretches in the Caribbean, Thailand and Malaysia.
Boracay is only 7 kilometers long and shaped like a dumbbell, the widest part being 4 kilometers wide.
The best vacation season is from November to April when the White Beach side is calm and the water is perfect for swimming; the other side of the island enjoys strong winds and waves perfect for surfing and wind surfing. The situation is reversed in the rainy season from June to October. The heavy weather may include typhoons, and sand invades the hotels and bars. Still, some visitors love this season and for years they religiously come to Boracay in what others call bad weather.
"We have the best sand beach in the world," says Tony Deng, a Chinese guide in Boracay. The sand on the best part of the beach is fine and white, just like milk powder, so it is sometimes called milk powder sand.
The sand is very, very white, and the sky intensely blue. The view from an airplane is striking.
Many people walk everywhere barefoot.
The long beach is divided into three sections with three boat stations. The widest area at Station 1 is where the prime hotels and resorts are located. There actually is no dock - the beach is considered a treasure, so dock building is not allowed.
Thus, anyone who wants to get into a boat must wade into the shallow water, maybe 30 to 40 meters from the shore, and climb aboard. The water only reaches mid-thigh. Skippers are happy to pull visitors onboard and give tours.
Boating is one of the best ways to have a general look around the island and most guides recommend it.
Paraws, the local outrigger sailboats, are the most common water transport. The hull is the principal axis and outrigger beams extend on each side. Visitors in life vests can sit on the beams and keep their belongings in the boat, and visitors balance the boat on both sides.