HOHHOT, July 19 (Xinhua) -- Senior Communist Party of China (CPC) official He Guoqiang stressed the importance of social and economic development in north China's Inner Mongolia Autonomous Region during his four-day inspection tour of the region that ended Sunday.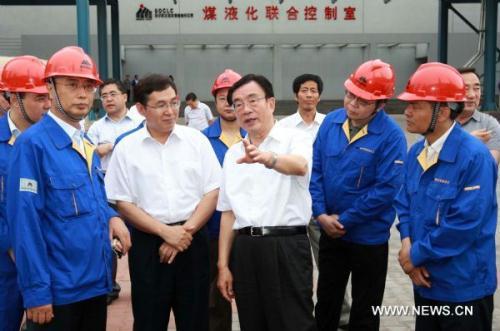 He Guoqiang, member of the Standing Committee of the Political Bureau of the Communist
Party of China (CPC) Central Committee, visits a coal liquefaction factory in the Inner
Mongolia Autonomous Region, July 16, 2010. He Guoqiang paid an inspection to Inner
Mongolia from July 15 to July 18.(Xinhua/Pang Xinglei)
He, a Standing Committee member of the Political Bureau of the CPC Central Committee, paid visits to enterprises, communities, agricultural and pastoral areas, and cities like Baotou, Ordos, Ulanqab and Hohhot.
In Baotou City, he called for other cities to learn from the city's environmental protection work.
He stressed the combination of economic development and ecological preservation since "Inner Mongolia is an important ecological barrier for northern China."
He also urged government and Party organizations in Inner Mongolia to work harder at transforming the economic development pattern.
He also called on them to guarantee and improve people's livelihoods while maintaining national unity.
Related stories
Editor:Jin Lin |Source: Xinhua