BEIJING, July 19 (Xinhua) -- Chinese Vice President Xi Jinping on Monday pledged to step up exchanges and cooperation between the Communist Party of China (CPC) and other Asian political parties.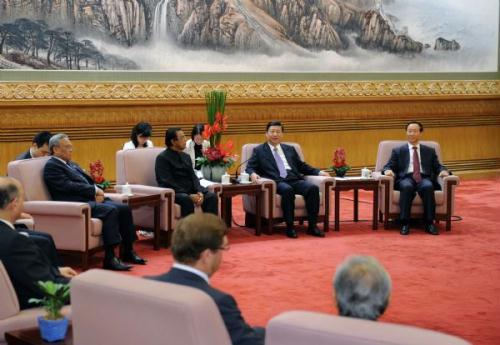 Chinese Vice President Xi Jinping meets with the delegates of the Poverty Alleviation
Conference of the International Conference of Asian Political Parties in Beijing,
capital of China, July, 19, 2010.(Xinhua/ Li Tao)
Xi made the pledge in his meeting with delegates attending the Poverty Alleviation Conference of the International Conference of Asian Political Parties (ICAPP) held from July 16 - 18 in Kunming, capital city of southwest China's Yunnan Province.
Xi also noted the CPC successfully hosted the third ICAPP meeting six years ago.
"The Kunming Proposal on Poverty Alleviation adopted at the just-concluded conference will not only boost cooperation between Asian political parties on development issues but also facilitate regional stability, prosperity and harmony," Xi said.
The CPC and Asian political parties share the same responsibilities to promote development in their countries and improve people's livelihoods, the vice president said.
"We would like to further strengthen exchange and cooperation with Asian political parties and contribute to regional development and friendly relations between people."
Sri Lankan Prime Minister D.M. Jayaratne, a senior leader in that country's Freedom Party, extended thanks for China's efforts to ensure the success of the conference on behalf of all participants.
Co-chairman of ICAPP Standing Committee Jose De Venecia said China has made great contributions to the world's poverty alleviation cause, and so holding a conference on poverty alleviation in China was appropriate.
He said the Kunming Proposal adopted in the conference will be submitted to the UN Millennium Development Goals summit scheduled for September.
Later on Monday, Chinese Vice Premier Li Keqiang met with a delegation from the Thai Democrat Party led by Thai Deputy Prime Minister Suthep Thaugsuban.
More than 120 representatives from 57 political parties in 30 countries attended the conference. Some African political parties, the UN and the Asian Parliamentary Assembly sent observers to the meeting.
Editor:Jin Lin |Source: Xinhua