SAINTHIA, India, July 19 (Xinhua) -- Mystery shrouded the collision of two passenger trains, Uttarbanga Express and Vananchal Express, early Monday morning at the Sainthia station in Birbhum district in the western Indian state of West Bengal, which saw at least 63 killed and over 150 others injured.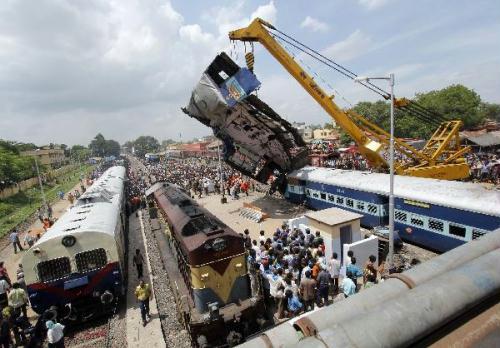 A crane lifts a damaged carriage of a passenger train at the site of an accident at
Sainthia in the eastern Indian state of West Bengal July 19, 2010. A speeding express
rammed into the back of a stationary passenger train in eastern India on Monday,
killing 60 people.(Xinhua)
Out of the nearly 150 injured, 40 are in critical condition while the bodies of 23 people have been identified.
"Preliminary probe into Monday's train mishap has indicated that Uttarbanga Express was moving at a speed of over 60 km per hour, nearly 40 km per hour more than the limit, and overshot the signal resulting in the fatal incident," Railway Board Chairman Vivek Sahay told reporters late Monday evening explaining the sequence of events.
"The train, on its way to Sealdah from Coochbehar in West Bengal, was supposed to halt at the Sainthia Station, but it did not and rammed into the stationary Vananchal Express, bound for Ranchi, from behind," he added.
"The Driver M. C. Dey along with assistant driver N. K. Mandal died on the spot in the accident. Dey was a category 'A' driver and had an unblemished accident-free record and was promoted recently. Moreover, he had adequate rest before taking charge of the train at Malda station, five hours before the accident," Sahay stated.