CHONGQING, July 19 (Xinhua) -- Rain-triggered landslides in southwest China Monday blocked a river, creating a barrier lake in Chongqing Municipality and forcing the evacuation of more than 12,000 people, flood control authorities said.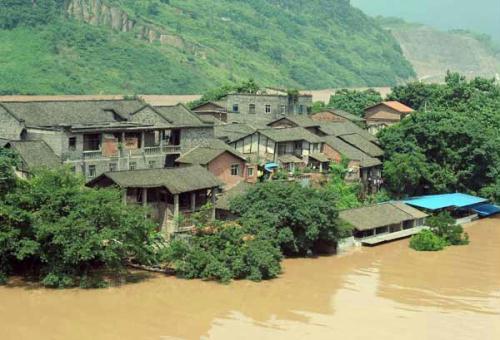 Photo taken on July 19, 2010 shows the Ciqikou Town surrounded by flood water of the
Jialingjiang River, southwest China's Chongqing Municipality. The water level of Beibei
section of Jianglingjiang River rose to 197.76 meters, 3.26 meters higher than the alarm
line. (Xinhua Photo)
The landslide blocked the Luojiang River in Chengkou County early Monday, creating a dam holding 15 to 20 million cubic meters of water, said Xing Hua, a Chengkou Water Resources Bureau spokesman.
As of 5 a.m. Monday, the barrier lake was five-square-kilometers in area and 18-meters deep, said Xing.
All 12,000 residents - 7,000 from Chongqing and 5,000 from neighboring Sichuan Province - have been evacuated to higher ground, flood control authorities in the two regions said.
The rising waters may flood the upper reaches of the river while any potential dam breach would bring fatal floods downstream.
Continuous downpours and poor road conditions have hindered work teams and experts getting near the site, stymying efforts to deal with the barrier lake, said Chengkou County's flood control office.
Related stories
Editor:Jin Lin |Source: Xinhua