CHENGDU, July 20 (Xinhua)-- A city in southwest China's Sichuan Province whose transportation links with the outside world were cut Saturday when floods and landslides blocked all roads and rail lines into the city had one link restored Tuesday.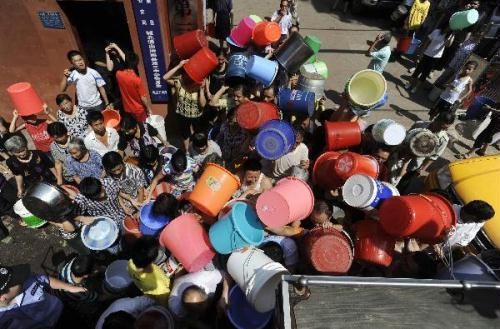 Residents fill empty jugs from a government water tender in Quxian County, southwest
China's Sichuan Province, July 20, 2010. Continuous rains since July 15 had isolated
several towns in the area, turning them into islands, including Quxian County. The
floodwater was receding since Monday afternoon. Water and electricity supply haven't
been restored yet. Relief materials provided by nearby governments and organizations
had arrived to help those in need.(Xinhua/Jiang Hongjing)
The Batai-Shitie highway reopened to traffic at 10 a.m. after workers finished clearing it, reconnecting Wanyuan City to the rest of China, local authorities said.
A 600-strong work crew equipped with over 20 machines began repairing the highway at 9 p.m. Saturday amid torrential rains, the municipal emergency response office said in a statement.
The road was cleared around noon Sunday but was again blocked after landslides Sunday afternoon and Monday morning.
Workers put their life on the line to clear the road around the clock. They worked atop a 10-meter-long bridge that could have washed away amid the strong mud flows.
A 150-kilometer-long stretch of the Batai-Shitie highway links Wanyuan with Shitie County, Dazhou City. Workers are now repairing other roads.
Related stories
Editor:Jin Lin |Source: Xinhua