BEIJING, July 21 (Xinhuanet) -- Yudu Mountain is located in northwest Beijing's mountain natural scenic area of Yanqing County, extending over 100 square kilometers. This area is situated in remote mountains. That location contributes to its marvelous and quiet scenery. Not only that, it is a little-known piece of virgin land in Beijing; it is the most primitive green memory of nature; it is the best choice for modern people to return to nature. It is the pearl hidden in the mountains.
Five recommended scenic spots:
No.1 Yudu Mountain Area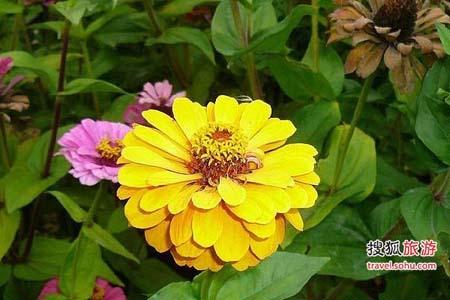 (Photo: travel.sohu.com)
Yudu Mountain is a hill encircled by a meandering stream, at 860 meters above sea level. The mountain slopes are clothed with rich and varied vegetation. The stream flows freely all the year round even in the hard winter, and various flowers are continuously blooming in spring, summer and autumn.
The most special things at Yudu Mountain are the two ancient Chinese pines. One standing at the gate of the mountain peak is named welcoming pine, another standing on the south cliff is named goodbye pine.