BEIJING, July 21 (Xinhuanet) -- After last winter's World Chocolate Dream Park and the recently launched Dino Dream Park, yet another dream-themed park, the Green Dream Park, has opened at the Bird's Nest.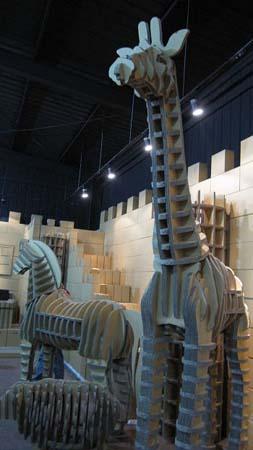 You're having a giraffe: this park's a joke.
(Photo: Global Times)
The 20,000-square-meter Green Dream Park (GDP) is an environmentally focused attraction separated into five indoor and six outdoor exhibition spaces, with such themes as paper, glass, recycled arts, papermaking, er, robots and Transformer.
At the first glance outside, the most noticeable highlight would definitely be the 11.5-meter high, six-ton Transformer-style model made out of abandoned vehicle parts from trucks, Jeeps, 20 minibuses and 16 motorbikes.
This iron giant is, in fact, the most attention-grabbing thing in GDP, but there are plenty of other "works of art" made from trash in the park's grounds. Metal installations and models are scattered about, made of a range of materials including pots and pans, and even spoons, knives and forks. As the GDP's chief organizer Lin Zhengzong said, "Each piece exhibited in this park is the brainchild of creativity. Garbage is, in fact, a resource put in the wrong place."
Apart from the car-part robot series, there are several smaller pieces of steel artwork. Liu Dingzan from Taiwan, 52, was enthusiastic about showing visitors his work, which included a metal locust made from the motorbike engines. "All the metal and steel pieces that aren't Transformers-themed are my work. I didn't do the Transformer series because I wanted to stick to original creations," Liu told Lifestyle.