BEIJING, July 21 (Xinhua) -- Torrential rains and floods, the worst in a decade, have claimed the lives of 701 people and left 347 missing in China since the beginning of the year, according to government figures Wednesday.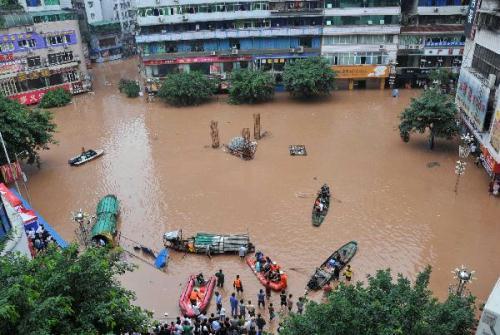 Submerged streets are seen at Qu County in Dazhou City, southwest China's Sichuan
Province, July 18, 2010. A torrential flood swept the county on Sunday. The flood
peak level was 4.66 meters higher than the safe line. (Xinhua/Wu Tao)
Floods had hit 27 provinces and municipalities, affecting 110 million people and 8.06 million people had been relocated, figures from the State Flood Control and Drought Relief Headquarters and the Ministry of Civil Affairs show.
They also affected more than 7 million hectares of farmland and destroyed 645,000 houses.
Direct economic losses had reached 142.2 billion yuan (20.88 billion U.S. dollars).
Since the beginning of April, when the flood season started, the levels of more than 230 rivers had passed the danger mark. Some areas along the Yangtze River even experienced the worst flooding in 30 years.
Liu Ning, vice minister of Water Resources and secretary general of the State Flood Control and Drought Relief Headquarters, said at a press conference Wednesday that the Three Gorges Dam on the Yangtze River and a series of structures built after 1998, when worst flood in half a century hit south China, had been crucial in controlling the floods.
The flow on the river's upper reaches topped 70,000 cubic meters a second Tuesday -- 20,000 cubic meters more than the flow during the 1998 floods that killed 4,150 people and the highest level since the dam was completed last year.
"The sluice gates have kept the water levels of the dam at 154 meters, enabling the dam to block 4 billion cubic meters of water and preventing severe flooding in the lower reaches," Liu said.
The reservoir has a capacity of 22.15 billion cubic meters for flood control, as water levels could rise to as high as 175 meters, he said.
Flood waters had breached six small reservoirs this year, but timely evacuations prevented any casualties, he said.
Liu also warned authorities to maintain their high alert as the flood season was far from over, and the six to eight typhoons expected to land later this year would bring more rain and exacerbate the situation.
About 287,000 military personnel had been mobilized in anti-flood operations.
Related stories
Editor:Jin Lin |Source: Xinhua