BEIJING, July 22 (Xinhuanet) -- Yao Ming has managed to come back from devastating injuries before.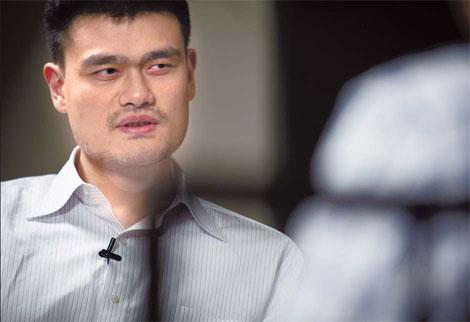 Basketball star Yao Ming in a contemplative mood during his interview with China
Daily on Wednesday at the Crowne Plaza Beijing Parkview Wuzhou.(Photo: China Daily)
Every time, the All-star center has returned to his Houston Rockets to be the backbone of the NBA team.
But now, at the age of 30 and still recovering a serious foot injury, China's greatest basketball player doubts he will ever reach such lofty heights again.
"I have no idea if I can return the peak of my form," the seven-time All-star center told China Daily in an exclusive interview on Wednesday in Beijing.
"I have not been tested. I have not played competitive basketball since the injury even in the training. I cannot answer if I will return to my best."
Yao took a break from his rehabilitation in the US to come back to China last Friday to prepare for his charity basketball game in Beijing.
He admits he is racing against time to get fit for the new NBA season, which starts in October.
"The intensity of my training is going up gradually because at least I feel good about my injury," he said. "But talk about recovering my form is nothing but nonsense and will only be realized if I can get through the next season smoothly. Then, you will see results after that season."