HANOI, July 22 (Xinhua) -- Chinese Foreign Minister Yang Jiechi said here on Thursday that China vows to enhance cooperation with ASEAN in six areas.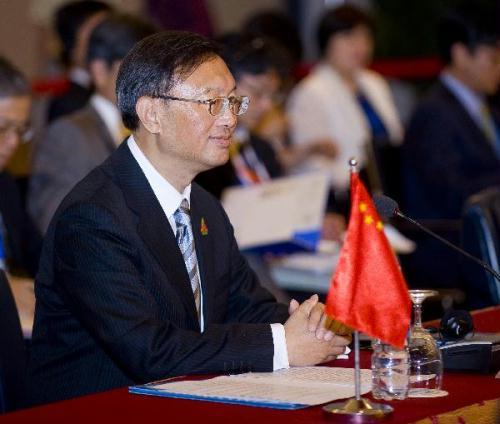 Chinese Foreign Minister Yang Jiechi attends the ASEAN (Association of Southeast
Asian Nations) Plus Three Foreign Ministers' Meeting in Hanoi, capital of Vietnam,
July 21, 2010. Foreign ministers from ten member states of the ASEAN and China,
Japan and the Republic of Korea began their annual meeting here Wednesday,
discussing measures to promote regional cooperation. (Xinhua/Chen Duo)
Yang made the remarks at the China-ASEAN Ministerial Meeting with participation of foreign ministers or their representatives from 10 member states of Association of Southeast East Asian Nations (ASEAN) and China.
First, Yang urged China and ASEAN to hasten the drafting of an action plan guiding China-ASEAN cooperation in the 2011-2015 period.
Yang said China and ASEAN will embrace the 20th anniversary of establishment of dialogue relations next year. The two sides should hold a series of activities to celebrate the event.
Secondly, Yang said China and ASEAN should deepen the development of China-ASEAN Free Trade Area and oppose protectionism in any form.
China and ASEAN should strengthen cooperation on various industrial sectors and technology innovation, said Yang.
Thirdly, Yang said China-ASEAN Investment Cooperation Fund has been put into operation. China will continue to support ASEAN in strengthening connectivity within the bloc.
Fourthly, China and ASEAN should enhance cooperation on finance, poverty reduction, environmental protection, defense and non- traditional security issues, Yang said.
Fifthly, the Chinese foreign minister said China and ASEAN should expand friendly exchanges of youth, media and non- government organization.
Finally, Yang said China and ASEAN should strengthen coordination on major international and regional issues.
At the meeting, Yang said China will continue to support the building of ASEAN Community through bilateral and multilateral channels. Yang reaffirmed that ASEAN should maintain centrality in East Asian cooperation.
ASEAN foreign ministers at the meeting held that ASEAN-China cooperation is comprehensive, strategic and vigorous, greatly contributing to the regional peace, development and stability.
ASEAN would like to continue to push forward strategic partnership with China and deepen cooperation with China in a comprehensive way, according to the ASEAN foreign ministers.
ASEAN groups Brunei, Cambodia, Indonesia, Laos, Malaysia, Myanmar, the Philippines, Singapore, Thailand and Vietnam.
Related stories
Editor:Jin Lin |Source: Xinhua