HANOI, July 22 (Xinhua) -- General Secretary of the Communist Party of Vietnam Central Committee Nong Duc Manh said here Thursday that Vietnam vowed to advance comprehensive strategic cooperative partnership with China.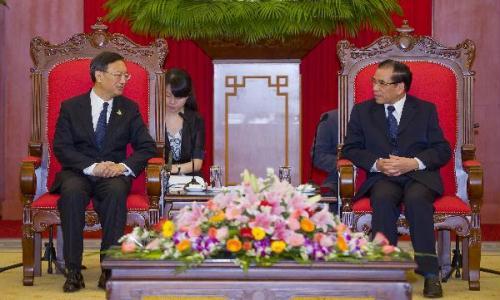 Secretary General of the Central Committee of the Vietnamese Communist Party,
Nong Duc Manh (R), talks with Chinese Foreign Minister Yang Jiechi in Hanoi,
capital of Vietnam, July 22, 2010. (Xinhua/Chen Duo)
Manh made the remarks when meeting with Chinese Foreign Minister Yang Jiechi, who is in Hanoi for the foreign ministers' meetings between ASEAN (Association of Southeast Asian Nations) and its partners.
Manh said Vietnam and China should maintain the good tradition of frequent exchange of high-level visits and contacts.
Manh said the two countries should promote political, economic and trade, and cultural cooperation. They should strengthen the exchange of experiences on governing the party and governing the country.
Manh asked the relevant government bodies and agencies of the two countries to make good preparation for a major youth exchange activity to be held later this year.
For his part, Yang said China-Vietnam relations is at a new threshold in history as this year marks the 60th anniversary of the establishment of bilateral ties and the China-Vietnam Year of Friendship.
Yang said party and state leaders of the two countries have pointed out the right direction for the development of bilateral ties from a strategic and long-term perspective.
Yang said China and Vietnam should stick to the strategic direction of the development of bilateral relations and continuously enrich the comprehensive strategic cooperative partnership.
Yang said the two countries should strengthen political mutual trust and properly settle sensitive issues in bilateral ties to achieve common development.
Related stories
Editor:Jin Lin |Source: Xinhua