Watch Video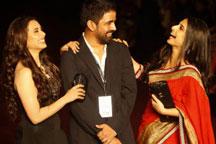 Play Video
India's unique legacy of clothing, craft and textiles kick started the Pearls Infrastructure Delhi Couture Week in New Delhi on Tuesday.
Nearly eighty percent of the collection was based on the traditional Indian fabric "Khadi." Now let's take a closer look.
Designer Sabyasachi Mukherjee's collection presents his inspiration by the "essence of India." Most of his creations had long coats worn over saris and flowing layered skirts, teamed with heavily embellished blouses and colorful caps.
The color palette was his trademark earthy browns, maroons and pale greens.
Mukherjee, a favorite with Bollywood actors like Rani Mukherjee and Vidya Balan, also used luxurious fabrics like velvet, and silk and adorned them with intricate zardosi and kantha embroidery.
Picture from New Delhi Couture Week that began in Delhi on June 20, 2010.
Sabyasachi Mukherjee, Indian fashion designer, said, "Well, the inspiration was Indian textiles and a book that I read called the Water House Album, which chronicles basically the princely states of central India and western India and the whole collection had a very vintage, almost heroic period feel to it. It is something that you could straight get out of the Victoria and Albert Museum, it had a museum like quality to it."
Pearls Infrastructure Delhi Couture Week, the first couture event to be held in the Indian capital, is showcasing the collections of 19 well-known designers over the week.