Hong Kong might not be a good choice if you're planning to take leisurely strolls among charming side lanes, occasionally pausing to take a photo or to browse the collection of baubles an old woman is offering laid out on the pavement.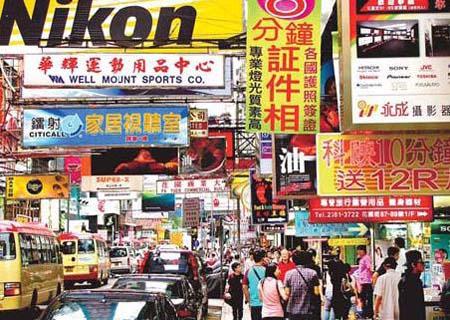 With its distinctive blend of East and West, Hong Kong is not the place for
leisurely strolls. Luo Wengang / Asia News Photo
First of all, people never stroll in Hong Kong - they sprint. And they never stop. The average walking speed here is 4.95 feet (1.5 meters) per second compared to Paris' 4.74 and Switzerland's lumbering pace of 3.45.
If you happen to be traversing one of Hong Kong's main shopping areas, Causeway Bay, and stop in the middle of the road, the next second, a horde of people will have forced you in several different directions.
That's why I love Hong Kong. I have an unalienable affinity for the clamor, the bustle - the perpetual vigor of the city. New York may be the city that never sleeps; Hong Kong is the city that never stops.
Every district you visit will be packed with people. There are always various aromas wafting through the air - a medley of fish ball noodle vendors, the stench of diesel from the traffic, burning incense from a small temple squashed between two office buildings and the collective sweat of 7 million people.
I'm a Hong Konger and have grown accustomed to the constant flurry. I know what it feels like to be a tinned sardine because I've been in numerous Hong Kong elevators. New visitors though, will undoubtedly be overwhelmed.
However, Hong Kong is far from just a metropolis full of looming skyscrapers.
Throughout the city, there are traces of the colonial period and a handful of parks. Victoria Park is a small expanse of greenery at the center of the city, regularly hosting live concerts and cultural events. Colonial names - Leicester Road, Robinson Road, Queensway Central, Prince Edwards Hospital - dot the road signs and public facilities.
The region may have only a modest bustling history of 200 years, but there are still remnants of old Hong Kong. There are small fishing villages on the outlying islands from the city's placid, seaborne days such as Lamma Island, Peng Chau, where you can still see sun-baked fishermen, clad in white shoes and straw hats, reel in their goods.
Take a ferry to Tung Ping Chau, an abandoned, 2-kilometer long island, where a community of 50 villagers once dwelled. Relics of World War II are still scattered throughout. Wong Nai Chung Gap Road, a popular walking trail, still bears old bullet ridden pill-boxes.
Hong Kong is hectic, crowded and noisy. It's the "Golden Egg", the "Pearl of the Orient" and "Asia's World City". Whatever you dub the city, it's brilliant. There is such a diverse blend of East and West, of mosques and cathedrals, of high-end dining and dai pai dong (open-air food stall).
Yes, when you come, you can visit Disneyland, but also try Mong Kok, or take a ferry to Tsim Tsa Tsui, sample some waffles and bubble tea from a street vendor, go for a hike at the Dragon's Back in Sai Kung. When shopping at Causeway Bay, please remember to bring a pair of comfy running shoes.
Editor:Yang Jie |Source: China Daily