by Xinhua writer Han Mo
BERLIN, July 24 (Xinhua) -- The death toll from a stampede on Saturday at a music festival in western Germany's Duisburg city has risen to 18, with 16 people confirmed killed on the scene and two others succumbing to injuries in hospital, local police said.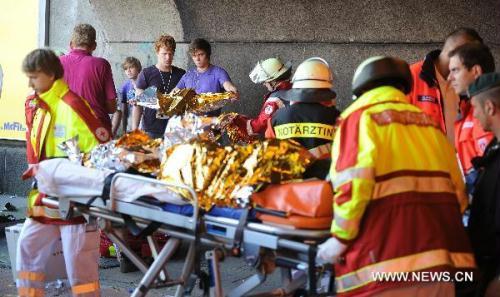 Rescuers work at the scene after a stampede inside a tunnel during the Love Parade
techno music festival in Duisburg, western Germany, on July 24, 2010. Nine women and
six men have been confirmed dead in the stampede in an entrance tunnel on the way to
the event site, and more than 100 people were injured, 45 of them seriously, Duisburg
police said.(Xinhua Photo)
The previous toll was 15. There were also 80 others injured, 45 of them seriously, as a crowd of thousands was blocked inside a tunnel and a mass panic occurred during the Love Parade, a popular electronic music festival, according to Duisburg police.
The police said at a press conference that the stampede happened shortly after 5 p.m. local time, as people were pushing and crushing each other in an entrance tunnel leading to the event 's main stage.
Police said that some people were killed and hurt after " climbing over the barriers and falling to the ground."
Local police have opened a hotline to help contact the relatives of the victims. The names and nationalities of the dead remained unknown.
Wang Xin, chairman of the Chinese students' association in Duisburg, told Xinhua on the phone that some Chinese students also attended the event, but so far he has received no report of any casualties.
Wang said Duisburg was a relatively small city with a population of 500,000, and its roads were generally narrow.
"It is imaginable that the city has exceeded its limits when more than 1 million people were pouring into the streets and plaza and caused chaos," he said.
Both German President Christian Wulff and Chancellor Angela Merkel expressed their sorrow and shock over the tragedy.
"In this difficult time, I express my sympathy and sorrow for the families of the victims ... I am appalled and saddened by the suffering and pain," said Merkel in a statement.
"Such a catastrophe is terrible, which caused death, suffering and pain during a peaceful festival of joyful young people from many countries," Wulff said. He called for an immediate investigation into the incident.
TV footage showed tens of ambulances were rushing to the tunnel and several people were resuscitated on the floor near the entrance. Some people were bruised in the face, arms and back, looking scared and tired, as they walked in lines out of the tunnel, which is 500 meters to 600 meters long.