Senegal Pavilion celebrated its National Pavilion Day at the Expo Centre today with African-style dancing performances.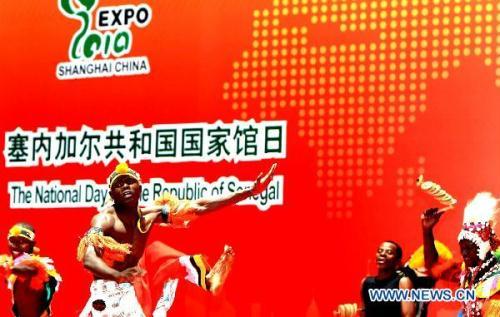 Senegalese actors perform during a ceremony to mark the National Pavilion Day for
the Republic of Senegal at the 2010 World Expo in Shanghai, east China, July 24,
2010.(Xinhua/Zhang Ming)
The National Pavilion Day activity was a perfect opportunity to let people learn more about Senegal, said Senegal Trade Minister Amadou Niang.
Senegal will showcase its advantages in its economy, infrastructure, culture, travel, environment and construction, Niang said.
The pavilion presents Senegal's new generation of international standard infrastructure as well as its natural resources management projects, Niang added.
Niang also invited visitors join in activities of the pavilion day. He said Senegal and China are in good cooperation relations and China has already become its most important cooperative partner.
He also hoped the two countries' friendly ties will be even further improved.
Jiang Yaoping, China's deputy Minister of Commerce, welcomed Senegal guests on behalf of the Chinese Government and the Chinese people.
Expo 2010 injected new momentum into Sino-Senegal ties, and it will expand communications between the two countries and promote friendship ties, Jiang said.
Themed "Infrastructure Construction, Catalyst of Sustainable and Harmonious Development," the Senegal Pavilion combines tradition and modernity and shows the country's efforts to protect the environment and raise living standard, Jiang added.
Senegal's exhibition and performance will leave visitors with deep impressions and make Senegal Pavilion Day a success, Jiang said.
Artists from Senegal's Ballet National De La Linguere performed African style singing and dancing. There will be a song and dance performance at Expo Centre by Senegal artists at 7:30pm tonight.
The Senegal Pavilion stands in the Joint-Africa Pavilion at Zone C.
The pavilion shows the country's efforts to renovate cities, build infrastructure, protect the environment and raise living standards.
The layout of the pavilion is inspired by a contour map of Senegal and the red, green and yellow colours of the national flag. Multimedia and physical objects are featured in the exhibition.
The exhibition features the newest infrastructure of world-class status, management of water, forests and sanitation, the commercial cluster of tourism, handicrafts and cultural industries. Engineering
Editor:Zhang Ning |Source: en.expo2010.cn