By Meng Jing
A new wave of blisteringly high temperatures has hit the capital at the same time as high humidity air has made Beijing feel even hotter.
The Beijing Meteorological Bureau issued a yellow-coded heat alert on Saturday, heralding the fact that three consecutive days in excess of 35 C was expected. Weather forecasters in Beijing say the hot weather will probably not leave the city until the second half of this week.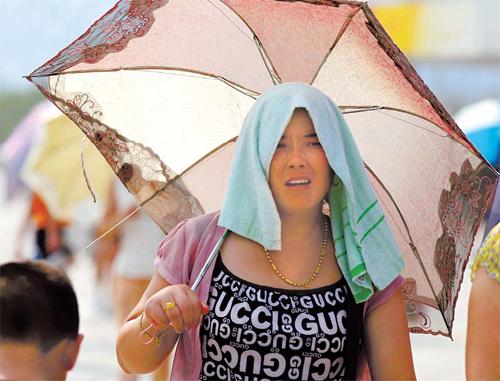 High temperatures in the city in recent days has led many residents to look for ways
to cool down.[China Daily]
Guo Jinlan, the bureau's chief weather forecaster, said it has been rare to see so many high-temperature days in July.
Guo said the excessively warm air will dominate Beijing for the coming three or four days.
"The conditions are not conducive for rain," she told METRO on Sunday.
"Compared with the first round of high-temperature days in Beijing, the humidity is rather high this time, reaching 80 percent instead of the 40 percent we had in early July," she said.
With the mercury rising, the number of people suffering from heatstroke has also climbed to a new level.
After Beijing officially began its "sauna-days" on July 19, more people have felt that the heat has become unbearable, said Ding Deping, head of the Beijing meteorological observatory.
"Some people doubt the weather forecast these days and ask why 35 C feels more like 40 C," Ding said, explaining that the high humidity makes hot weather feel even more uncomfortable.
Related stories